Hamsa (Chamsa) is an ancient charm or amulet that has been brought to us by the worlds most ancient civilizations.   Its origin is Middle East and has meaning for both Muslims and Jews.  Its name comes from Semitic and means a hand.  It does indeed remind the shape of a human hand with two thumbs at both ends making it symmetrical.  The belief in Hamsa's protective powers against evil eye has been adopted by most modern world, and can be seen decorating many homes and offices and worn as jewelry in many cultures.
Judaic Hamsa
According to Jewish mystics the Hamsa is believed to protect its owners from evil eye and any negative energy and bless with peace and prosperity, luck and good fortune.  In Hebrew Hamsa is also often referred to as the Hand of Mirriam the great prophetess that lived at the time of  Jewish peoples' exodus from Egypt, she was the sister of Moshe the greatest prophet of all times.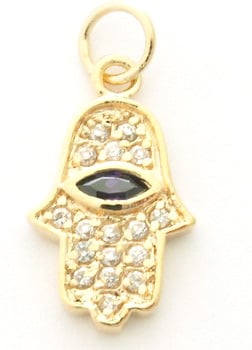 Hamsa Jewelry
In the recent years with the growing interest in mysticism and Kabala, Hamsa has regained its popularity.  It has become a widespread custom by the women all over the world to adorn themselves with Hamsa jewelry.  Hamsa's can be seen on earrings, necklaces, bracelets and rings.  Hamsa jewelry often incorporates a number of motifs that are believed to ward off an evil eye.  Accorging to Kabbala certain symbols are believed to bring blessing and good luck, a few of these symbols would be images of human eye, fish and birds and they can often be seen displayed in the center of Hamsa hand.  Some Hamsa hands will display blessings for home, business, and excerpts from the Book of Psalms.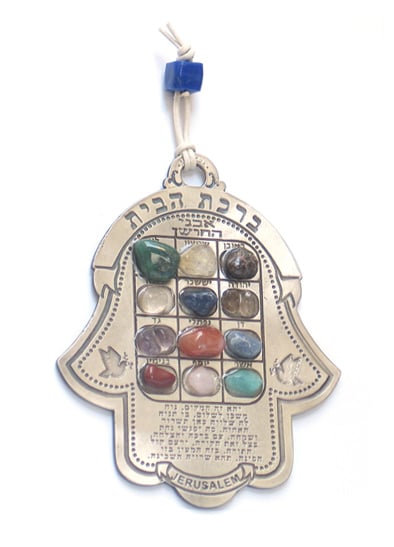 Our selection
Now that you got a brief introduction on what is Hamsa, its' origins and its' protective powers you can check out our beautiful selection of Hamsas'.  We offer Hamsa jewelry, Hamsa key chains, blessings for home, offices and more, all of it for very attractive prices and great service.  We hope to see you at our website.
Wall hangings and keychains:
http://www.ajudaica.com/category/2/Hamsas/
Hamsa necklaces:
http://www.ajudaica.com/category/485/Hamsa_Necklace/
Comments
comments